Meet our staff
Dennis, Managing Director & PADI Instructor.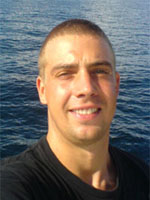 "I have already been diving half of my life, I became certified as a 13 year old. It became my passion and ever since I have gained experience in various spots and conditions."
Dennis has done more than 1500 dives all around the world.
Languages: German and English.
Diving experience: More than 17 years.
Aaron, Base Leader.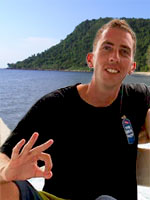 "I was born in front of the sea in France, and I can't live far from it! I think I can say that I'm a son of the Big Blue. I have been travelling since I'm 20 years old, and the dive Lifestyle has become my life. I like to share my hobbies and talk of dive stories in front of the sea, on a boat with other travellers and divers! I arrived here in April, and wouahouh....! I fell in love with the Cambodian islands, the place is beautiful... Koh Rong Samloem is truly a paradise island, we conduct interesting dives and the team is amazing. By now, Cambodia has become my second home!"
Aaron, our new French instructor, who started diving around 6 years ago in the Forra Dive Center on Koh Lipe in Thailand. After this he travelled Asia for a while and dived in most of the sea around. He started his professional diving career 2 years ago as a PADI dive master in the Philippines.
Languages: French and English.
Diving experience as a professional: 3 years.
Arnold, Course Director.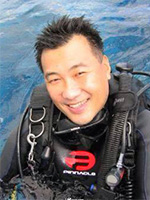 "Born in Malaysia and started diving in New Zealand. I have been a PADI Instructor for 16 years and a PADI Course Director for 8 years. I still enjoy teaching DSD's as well as IDC's. I now travel around Asia in Malaysia, Thailand, Brunei and even as far as Rarotonga in the Cook Islands conducting IDC's.With the passion of teaching new Instructors in the real world application of teaching SCUBA I feel this is the most important aspect of diver Education."
Arnold has been awarded Platinum Course Director and has trained and certified to date over 680 PADI Instructors and Instructor Specialists. He has also successfully helped Seamonkey Dive Center to become the first PADI 5 Star Career Delevopment Centre in Malaysia and has recently been awarded the Outstanding Contribution to Instructor Development by PADI Asia Pacific.
Languages: English, Bahasa Malaysia/Indonesia, Cantonese & Hokkien (2 dialects of Chinese).
Diving experience as a professional: 16 years.
Fabrice, PADI Instructor.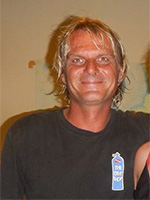 "I have been certified in 1993 but even before that I have been in love with the sea and spent hours of snorkeling in the Atlantic Sea. I have moved to Cambodia in 2007 and is scuba diving diving most of the time since."
Fab is probably the most experienced dive instructor in the whole of Cambodia. He has trained close to 1000 students in Cambodia alone whilst doing thousands of dives.
Languages: French and English.
Diving experience: 18 years.
Pete, PADI Instructor.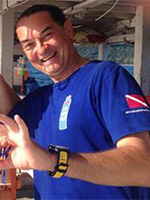 "I'm a fair dinkum Australian from Cairns on the magnificent Great Barrier Reef. I am unable to narrow down the reason I have such a passion for diving but I think it's a combination of the creature you can encounter, the feeling of flying weightless through the water along with outdoor lifestyle that diving offers. I've been diving since the 90's and still can't wait to get in the water so the saying "Find a Job you enjoy and you will never work a day in your life" is totally true in my case."
Pete did his first dive certification in 1992 on the Great Barrier Reef island called Fitzroy island. He worked as a mechanical engineer for many years but eventually the draw of the sea led him to become a dive instructor and travel the world ending up in tropical waters of Cambodia.
Languages: English.
Diving experience: 2 years.
Markus, PADI Instructor.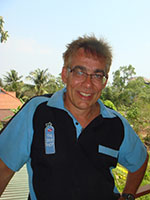 "My inspiration to start diving came up with my activities in speleology. After a try dive in Germany 1996 I traveled South Africa in 1997 and did my OWD. The AOWD followed the next year when I went back to South Africa again. The same year I also joint a diving group in Germany. I like to travel and see different places, so in the next years all my traveling was related to caving and diving. So I went for diving in Germany, Norway, Italia, Croatia, Malta, Turkey, Egypt, Malaysia, Indonesia, Thailand, Philippines and Cambodia."
After 16 years of fun diving Markus decided to become a professional dive teacher and did his PADI dive master and instructor 2014 in Cambodia.
Languages: English and German.
Diving experience: since 1996. Caving experience: since 1992.
Maxim, PADI Instructor.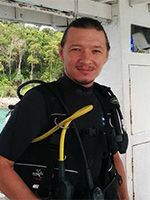 "In 2014 I have not yet thought about diving, I remembered that I have done the Discover Scuba Diving program years ago and decided to give it a try again. On my first dive I realized that this is what I would like to do for the rest of my life."
In university Maxim graduated as a spacecraft and air space machine engineer, but afterwords he has been working in the IT industry for about 15 years and at one point he have decided to change his life and to spend less time in the office. He quit his job and was able to move together with his family to Cambodia where he have started scuba diving with The Dive Shop.
Languages: English and .
Diving experience: 1 years.
Lukas, PADI Instructor.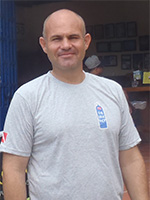 "Oh wow ! What an extraordinary journey it has become. I got certified as a Dive Master and now on my way to become an Instructor here at the Dive Shop. This is my story : About a year ago I decided to leave my country South Africa for Cambodia and I found this paradise on earth. I immediately knew that my new life as a diver would start here. After a few months I completed my Dive Master program. What a life change this has become for me. I learned a lot from numerous divers and I had the opportunity to learn about artificial reef building projects. Its really been a dream come true and im happy to say that soon I will be able to pass on this knowledge to new comers in Diving. For everyone involved in my life change experience , I cant thank you enough. "
Languages: English and Afrikaans.
Diving experience: 1 year.
Chris, PADI Instructor.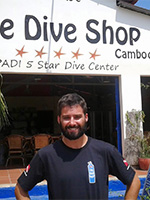 "I began my diving career in Vietnam three years ago and haven't looked back since! I first came to Cambodia more than two years ago as a backpacker, and after visiting the beautiful and majestic island that is Koh Rong Samloem on a day trip, I knew right then and there that I would be back to make that place my home. fast forward to now and my mission is accomplished! Excellent diving coupled with a great team and a laid-back, positive atmosphere ticks all the boxes on my personal checklist. This place truly is a dream come true, and there is no need to wake up any time soon!"
After a 5 year stint in the Canadian military, Chris gave it all up and ventured to South East Asia where he began his diving career over three years ago. The dive industry has seen him sent all over Vietnam, parts of Malaysia, and finally here in Cambodia, where he has made his home for well over a year now.
Languages: English.
Diving experience: 3 years.
Yves, PADI Instructor & owner of Sleeping Trees.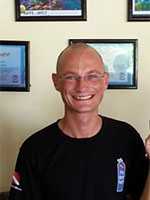 "I was born in France in grew up in the mountains and did not know that I should become a diver finally, because I was attracted more by the thrill of the mountains."
After 10 years of traveling Yves tried diving in Koh Tao for the first time and immediately fell in love. Yves dipped further in Southeast Asia and what was a hobby at first, was a reason to travel. While he appeared with the turtles in Malaysia and in the wrecks in Coron, he understood that the sea is a very special place! So he went back to Koh Tao to go through the Divemaster training and shortly after he went to Bali to take the course with IDC Bali Breizh Divers and Course Director Guy Faisnel. Meanwhile, Yves lives in Cambodia to dive our pristine dive sites and to teach our students!
Languages: French and English.
Diving experience: 2 years.
Charles, PADI (part time) Instructor.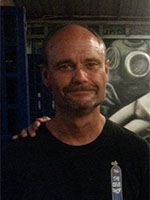 "I love diving because of the abundance of life under water, every dive brings something new."
I am originally from Texas in the U.S.A. I learned to dive on a holiday in Hawaii 20 years ago and now have well over a 1000 dives. I worked as a Divemaster part time in Texas before becoming an Instructor 5 years ago in Phuket Thailand.
Languages: English.
Diving experience: 20 years.
Max, PADI Divemaster.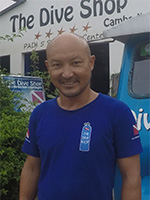 "Being raised in Long Beach, Southern California, the ocean has always been there since I can remember." Scuba diving was a natural progression from a lifestyle of living on the beach. I remember telling my Open Water Scuba instructor that scuba diving was fun but expensive. He told me to go pro, get paid to dive/that lives with me today. I made the choice 3yrs ago to return to my country of birth. After some research, Sihanoukville came close to being just like Long Beach, California; so I settled here. I went thru the PADI Divemaster training here, and have been diving here ever since. I have recently finished my EFR Instructor course with the DiveShop and looking forwards to serving the people of the Kingdom of Cambodia.
Scuba diving was the key to beginning a new life here in Cambodia. I am happy to show others the beauty of the Cambodian coast and the surrounding islands, from a scuba divers perspective.
Languages: English and Khmer.
Diving experience: 5 years.
Guillaume, PADI Divemaster & Manager at Huba Huba Bungalows.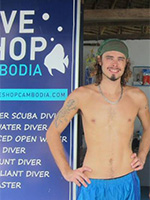 "I love diving because there are so many things to see underwater and I love to find new creatures every time I am diving; the best thing is that I can switch off completely whilst underwater."
Guillaume, nicknamed Guiko, came to the Sunset Beach as part of the Huba Huba team in the first place. After doing his Open Water and Advanced course he got the diving virus and decided to sign in for the Divemaster training with The Dive Shop.
Languages: English and French.
Diving experience: 1 year.
Bradley, PADI Divemaster & Manager at Robinson Bungalows.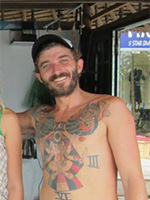 "One of the things I love most about diving is the silence, pure peace I like that every dive is different always a surprise even on the most frequently dived sites I like to take people diving and see the reaction when I am able to find something they havn't seen before."
Bradley came to the Sunset Beach in 2014 as a volunteer but decided to stay for a long time.
Languages: English.
Diving experience: 1 year.
Stephanie, Conservation Manager.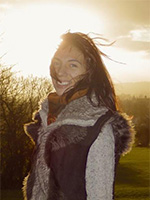 "I came to Cambodia in May 2014 as part of my worldwide travel experience and was so captivated by the beauty of Cambodia I had to stay longer. I began my diving course late 2014, breath taken by the underwater world I decided to create my own personal marine project; documenting what was present at each dive site so we could make the diving experience even more fascinating by knowing what you are looking at. Over time this lead to recording both terrestrial and marine species and late 2015 a partnership with the diveshop was made to help protect the islands beauty that so many take for granted. Together we created 'The Wonderful Wildlife of Samloem' and we are striving to conserve the islands marine and terrestrial wildlife in balance with community living and education."
Languages: English.
Diving experience: 2 years.
Jinky, Barkeeper.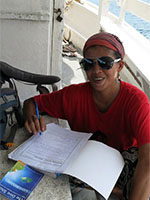 "Especially underwater photography is my favorite in diving. It allows me to capture the moment and gives me the opportunity to show natures beauty to others!"
Jinky has started working for the Dive Shop in our island base on Sunset Beach in the first place. When we took her for a dive, her passion for scuba diving awoke and it was just a matter of weeks until she has passed her Padi Rescue Diver course, now on the way to become a dive professional.
Languages: English, Philippino.
Diving experience: 2 years.
Julie & Sebastian, Owners of Robinson Bungalows.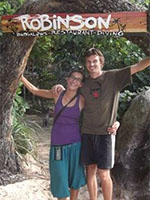 "We felt in love with Koh Rong Samleum immediately with its perfect combination of beautiful beaches, ocean full of interesting marine life and jungle with chattering monkeys, amazing trecks and superb wildlife, how could you want to be anywhere else."
Julie has previously worked in banking back home in Switzerland and Sebastian has been working in all kind of jobs whilst living in Europe. The couple has brought fantastic food, wonderful service and a genuinely welcoming atmosphere to the Robinson Bungalow. With their wide range of skills Sebastian and Julie have made themselfes very valuable new team members.
Languages: English, German and Switzergerman.
Diving experience: learning.
Sothea, General Manager.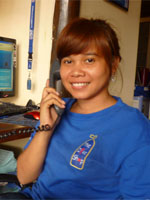 Sothea has been with the team since the Dive Shop opened in 2008. She works with her heart and soul and always has time for our guests and the team alike. Sothea was married last year, which all the Dive Shop staff helped celebrate, and has just given birth to a beautiful baby girl named Hannah. Congratulations and well done Sothea!
Languages: English and Khmer.
Freya, Head Accountant.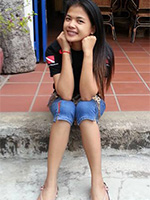 Freya was born in the Kampot Province but is living in Sihanoukville since 2010. She has already completed the academics for the Open Water Course and is looking forward to dive in the ocean soon. At the moment she is studying Chinese, her third language! During her time off work Freya is studying to complete her Masters in management.
Languages: English and Khmer.
Dern, Head Captain.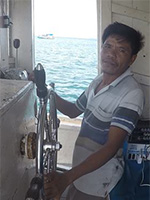 Dern is a very experienced captain who is steering boats in Cambodian waters for more than 20 years already. He knows all the Cambodian islands, from the Thai- to the Vietnamese border.
Languages: English and Khmer.
Mao, Captain.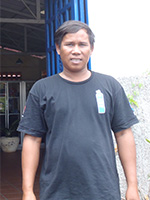 Captain Mao is born in Kampot Province and has been working on a fishing boat. He has just one child who is 6 years old and already attending the primary school.
Languages: Khmer.
Chanthea, Captain.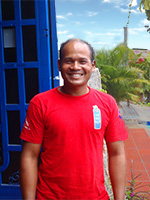 Chanthea is coming from the Kampot Province as well and he is the nephew of Captain Mao. When his uncle decided to move to Sihanoukville to work for The Dive Shop, he just followed and asked for an interview.
Languages: Khmer.
Seth, Majesty Multitalent.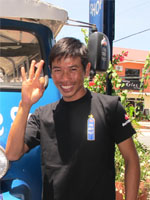 Seth has been our driver in Sihanoukville for quite a while but has shown to be very reliable and extremely skilled working with any machine. Since we have moved our dive center to the Sunset beach on Koh Rong Samleum, he went to the island permanently together with his wife Pov who is a genius chef serving local as well as japanese disher in our restaurant at the Robinson Bungalows.
Languages: English and Khmer.
Linna, Manager at Happa Garden Resort.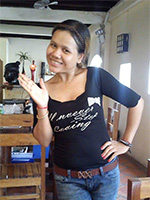 Linna has been running the Japanese restaurant Happa in Sihanoukville for 10 years but has recently moved to the Sunset Beach to run our new resort. Linna has been living in Japan where she has mastered to combine local- and Japanese foods in a mouth-watering fusion.
Languages: English and Khmer.
Kunthea, Chef at Happa Garden Resort.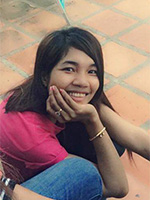 Kunthea is the cousin of Linna and has also been working in the Happa restaurants in Sihanoukville and Phnom Penh for many years. She is a very talented chef and is able to create very delicious Japanese and Khmer dishes.
Languages: Khmer.
Pov, Chef at Happa Garden Resort.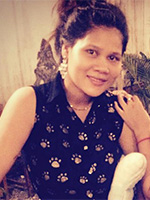 Pov is the sister if Linna and the wife of Majesty Seth. She has been working together with her sister in the 'old' Happa Restaurant for almost 10 years. When we moved to the island she is helping out during the high seasons; during low season she is spending most of her time at her home province Prey Vieng.
Languages: Khmer.
Khenh, Dive Shop Staff.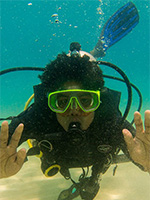 Khenh is with us since 2014 when his relative, our general manager Sothea, introduced him into the Dive Shop family. He spends most of his time on the Sunset Beach to help with the daily running of our island base.
Languages: Khmer.
Sina, Dive Shop Staff.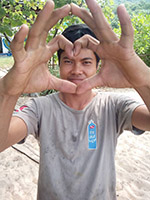 Sina is the young brother of Khenh and with our team since 2014 as well. Short after moving to the island he felt in love with one of our chefs. We are all looking forward to his marriage to come soon.
Languages: Khmer.
Thary, Dive Shop Staff.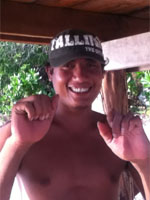 Thary has been with us since 2011 already. Before he has been serving in the Cambodian army, before he worked as a bodyguard and has also been famous in Phnom Penh for his material arts skills. Apart from his enormous strength he has a good knowledge about the local wildlife and is great in spotting any kind of animal.
Languages: Khmer.
Tha, Housekeeper.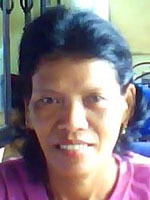 Tha has been working for the Dive Shop for a long time already. Her main duty is to keep our office in Sihanoukville clean and tidy. She sees our team kind of like a second family as she does not have children and her husband is living and working in Thailand.
Languages: Khmer.