PADI Bubblemaker
Why not dive together with your Family?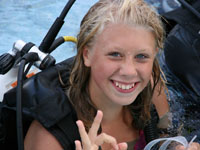 Here is the PADI program for your younger generation. Children should be comfortable in the water, but they don't have to be super swimmers. With youngsters in mind, the maximum depth is only 2 metres. For kids starting at an age of 8 years.
PADI Discover Scuba Diving
Have you ever wondered what it's like to breathe underwater?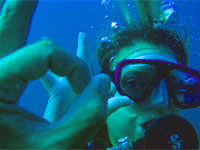 If you want to find out but aren't quite ready to take the plunge into a certification course, Discover Scuba Diving will let you experience scuba to see if you like it. The one day introduction to scuba includes a little knowledge about the important rules of diving and your equipment, followed by a confined session to practice skills which will make you more comfortable under the water. This is followed by an afternoon open water dive up to 12 metres with one of our PADI Instructors. Well worth a try!
PADI Scuba Diver
The PADI Scuba Diver is a great course for people who want to learn to dive but have a very limited amount of time or would feel more comfortable starting off by always diving under the supervision of a divemaster or instructor.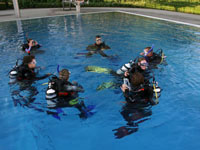 In just 2 days you can safely become a certified Diver. You are then able to go to a maximum depth of 12m accompanied by an instructor or divemaster. A PADI Scuba Diver course can also count towards your Open Water course should you want to progress your diving in the future.
PADI Open Water Diver
Get your PADI Open Water certification. If you've always wanted to learn how to scuba dive, discover new adventures or simply see the world beneath the waves, this is where it starts.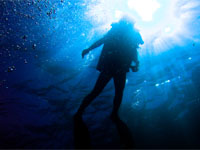 The PADI Open Water Diver course is the world's most popular scuba course, and has introduced millions of people to the adventurous diving lifestyle. Completing your Open Water certification opens the door for you to dive all around the world.
PADI Advanced Open Water Diver
The Advanced Open Water Diver course helps you increase your confidence and build your scuba skills to become more comfortable in the water and master key points such as bouyancy and navigation.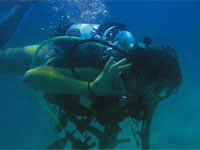 This is a great way to get more dives under your belt whilst continuing to learn under the supervision of your PADI instructor. This course builds on what you've learned and develops new capabilities by introducing you to new activities and new ways to have fun scuba diving.
Emergency First Responder
"Want to be ready in an emergency?"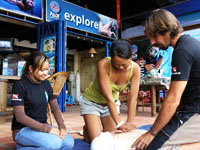 First aid and CPR are good skills for anyone involved in adventure sports or even just in general – just in case. You also need these skills for the PADI Rescue Diver course. Emergency First Response is a PADI affiliate that specializes in teaching these life saving skills – and they're for anyone, not just divers.
PADI Rescue Diver
The PADI Rescue Diver course is described by many who have participated as the most rewarding dive course they have taken.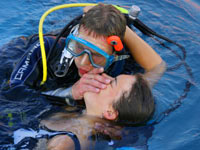 Building upon what you've already learned, this course expands on what you know about how to prevent problems, and how to manage them if they occur in a diving situation. The PADI Rescue course will broaden your experience and change the way you dive.
PADI Specialty Courses
PADI Speciality courses are a great opportunity for you to fine-tune your diving skills.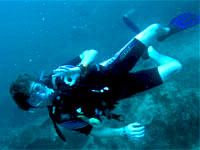 Some of the most popular PADI Specialty Courses are Digital Underwater Photography and Night Diving as well as Peak Performany Buoyancy, but there are many more to choose from.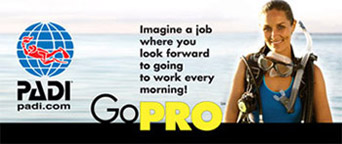 Instructor Development Course (IDC)
If you like people, have a passion for scuba diving and want an extraordinary life – become a PADI Instructor!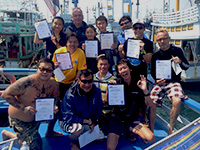 The Instructor Development Course (IDC) is made up of two parts – the Assistant Instructor (AI) course and the Open Water Scuba Instructor (OWSI) program. Most dive professionals complete the entire IDC and go on to attend an Instructor Examination (IE), which is the final step to earn a PADI Instructor certification.
Staff Instructor Course
Just as scuba divers look up to divemasters, instructor candidates really respect IDC Staff Instructors. As the name implies, IDC Staff Instructors assist with instructor training and share their wisdom and experience with new PADI leaders.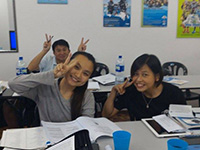 Taking the IDC Staff Instructor course provides you with in-depth knowledge of the instructor development process and prepares you to shape the next generation of PADI Professionals. It's also a great career move.
PADI Divemaster
Looking for the first step in working with scuba as a career?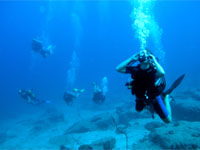 Your adventure into the professional levels of recreational scuba diving begins with the PADI Divemaster program. Working closely with a PADI Instructor, in this program you expand your dive knowledge and hone your skills to the professional level. PADI Divemaster training develops your leadership abilities, qualifying you to supervise dive activities and assist instructors with student divers.
PADI Assistant Instructor
As a PADI Assistant Instructor, you not only gain additional experience as a PADI Professional scuba diver, but you also start learning the PADI System of diver education.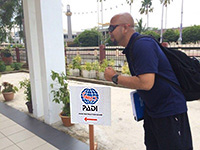 You can act as an instructional scuba assistant and assume limited teaching responsibilities. It's a great way to gain experience in order to become a Scuba Instructor!
PADI Instructor Specialities & MSDT
The PADI Master Scuba Diver Trainer rating sets you apart as a dive instructor who takes continuing education seriously and is committed to teaching a variety of courses.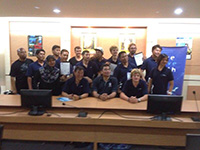 Being an MSDT signifies that you've got the experience and certifications to offer all the training a diver needs to become a Master Scuba Diver – the ultimate recreational diver rating.
Emergency First Response Instructor
As an Emergency First Response Instructor, you teach skills based on internationally recognized emergency care guidelines, and you can offer courses to anyone.
The great thing about EFR courses is they make learning easy by providing a comfortable environment to practice emergency care skills. Your students finish the course feeling confident with their new skills and ready to help someone in need.