The Dive Shop Cambodia
Welcome to The Dive Shop Cambodia in Sihanoukville and Koh Rong Sanloem island. We are dedicated to all aspects of Scuba diving in Cambodia and the only PADI 5 Star Instructor Development and TecRec Center in Cambodia operating from a private beach.
The Dive Shop together with our professional team will take good care of you and your loved ones and make it the best diving experience ever. We teach at all levels, young and older and anyone else keen to dive.
All of our diving trips and daily scuba diving courses are run in small groups to offer you the best personal experience and the best scuba diving available in the Kingdom of Cambodia.
Our Team aims not only to give you the necessary technical skills you need to scuba dive, but also to encourage an interest and appreciation of the diversity of marine life that can be found in the Gulf of Thailand and South Chinese Sea.
The Dive Shop has been founded in 2007 and is since run by a team of German and British diving experts with a great safety record. Our dedication apart from conservation is to offer high quality PADI certifications around and further explore the ocean in the search of shipwrecks and new dive sites. If you are an experienced diver and keen to join in for our monthly exploration trip to the outer islands Koh Tang, Koh Prins, Koh Chlarm or Condor Reef do not hesitate and contact us today.
COVID-19 UPDATE
We are fine and OPEN for diving for a minimum group size of two scuba divers. If you plan to visit us without bringing along your dive buddy, just get in contact with us about the next confirmed diving day!
We operate with Dive Centers on both sides of Koh Rong Sanloem island which allows us to dive almost 365 days per year. A dive trip will start from at least one side of Koh Rong Sanloem island. This is depending on weather conditions.
Usually the Sunset Beach on the western side of the island is calm during our dry season. Diving from this side of the island will be possible roughly in between November and April.
The Saracen Bay on the eastern side of the island is offering good protection of wind and waves for most of the year but in between December and March strong wind coming from the East might make boating a risk and diving for us impossible. During this time of the year better arrange accommodation with us close to our dive center on the calm side of the island.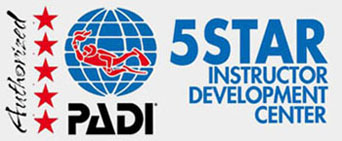 Follow us on Facebook and Twitter or check out our clips on Youtube: