PADI Bubblemaker
Why not dive together with your Family?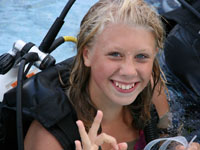 Here is the PADI program for your younger generation. Children should be comfortable in the water, but they don't have to be super swimmers. With youngsters in mind, the maximum depth is only 2 metres. For kids starting at an age of 8 years.
PADI Discover Scuba Diving
Have you ever wondered what it's like to breathe underwater?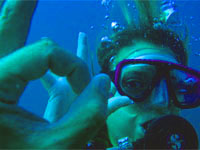 If you want to find out but aren't quite ready to take the plunge into a certification course, Discover Scuba Diving will let you experience scuba to see if you like it. The one day introduction to scuba includes a little knowledge about the important rules of diving and your equipment, followed by a confined session to practice skills which will make you more comfortable under the water. This is followed by an afternoon open water dive up to 12 metres with one of our PADI Instructors. Well worth a try!
PADI Scuba Diver
The PADI Scuba Diver is a great course for people who want to learn to dive but have a very limited amount of time or would feel more comfortable starting off by always diving under the supervision of a divemaster or instructor.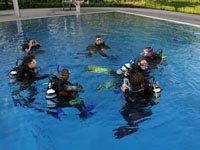 In just 2 days you can safely become a certified Diver. You are then able to go to a maximum depth of 12m accompanied by an instructor or divemaster. A PADI Scuba Diver course can also count towards your Open Water course should you want to progress your diving in the future.
PADI Open Water Diver
Get your PADI Open Water certification. If you've always wanted to learn how to scuba dive, discover new adventures or simply see the world beneath the waves, this is where it starts.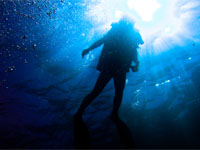 The PADI Open Water Diver course is the world's most popular scuba course, and has introduced millions of people to the adventurous diving lifestyle. Completing your Open Water certification opens the door for you to dive all around the world.
PADI Advanced Open Water Diver
The Advanced Open Water Diver course helps you increase your confidence and build your scuba skills to become more comfortable in the water and master key points such as bouyancy and navigation.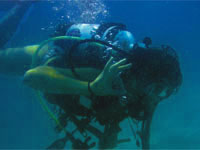 This is a great way to get more dives under your belt whilst continuing to learn under the supervision of your PADI instructor. This course builds on what you've learned and develops new capabilities by introducing you to new activities and new ways to have fun scuba diving.
Emergency First Responder
"Want to be ready in an emergency?"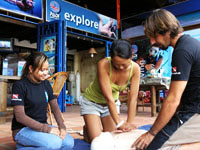 First aid and CPR are good skills for anyone involved in adventure sports or even just in general – just in case. You also need these skills for the PADI Rescue Diver course. Emergency First Response is a PADI affiliate that specializes in teaching these life saving skills – and they're for anyone, not just divers.
PADI Rescue Diver
The PADI Rescue Diver course is described by many who have participated as the most rewarding dive course they have taken.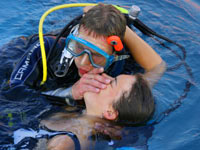 Building upon what you've already learned, this course expands on what you know about how to prevent problems, and how to manage them if they occur in a diving situation. The PADI Rescue course will broaden your experience and change the way you dive.
PADI Sidemount Diver
Having scuba tanks on your back isn't a requirement for exploring the underwater world. Many scuba divers have discovered the joy of mounting cylinders on their sides. Sidemount diving gives you flexibility and streamlining options. Plus, you don't have to walk with heavy cylinders on your back – just enter the water, clip them on and go.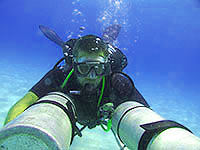 Diving in a sidemount configuration offers many advantages! Sound interesting? Sign up for the PADI Sidemount Diver Specialty course.
PADI EANx Nitrox
Stay Down Longer: Few things have revolutionized recreational diving in the past as much as the introduction of Enriched Air Nitrox (EANx).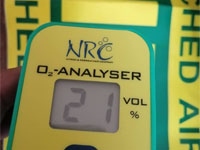 In the PADI Enriched Air Nitrox or EANx course you learn the ins and outs of enriched air diving. You will receive a certification to dive up to 40% oxygen.
PADI Self-Reliant Diver
The PADI Self-Reliant Diver course is a new PADI distinctive specialty that aims to recognise and accept the role of the buddy system and its contributions to diver safety while identifying and developing self-reliance and independence while diving.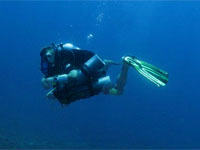 There are two reasons for an experienced diver to take the Self-Reliant diver course: To develop the skills of planning and carrying out dives without a partner when preferred or necessary and to sharpen skills of diving self-reliance, making the diver a stronger partner in a dive pair or team.
PADI Digital Underwater Photographer
Underwater photography is one of the most popular diving specialties, and the rise of digital underwater photography has made it easier and more fun than ever.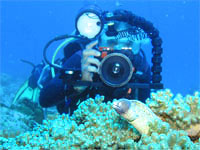 It's a great way to capture the memory of the adventures you've already had. Plus capture images to share with your friends and family. Your images are timeless and something to appreciate for years after.
PADI Night Diving Specialist
Become a Night Diving Specialist!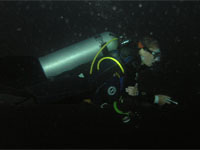 In this course you will do three dives at night to learn the techniques to make safe and fun diving. Find the creatures which appear at night, watch them hunt and learn more about the oceans around you.
PADI Drift Diving Specialist
The PADI Drift Diver Specialty course shows you how to enjoy rivers and ocean currents by "going with the flow," staying with your dive buddy, communicating with the dive boat and keeping tabs on your location on the dive site.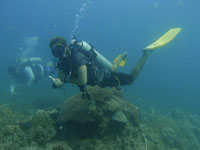 Your Instructor will explain you the basic techinques of drift diving and you will master these skills in two dives in open water conditions. Conserve your air and spend more time on your dives.
PADI Delayed Surface Marker Buoy Specialist
The PADI Delayed surface marker buoy or DSMB course will teach you the techniques and skills to efficiently deploy a Delayed SMB.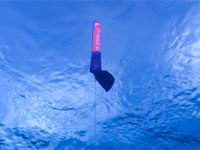 Deploying a DSMB is a skill which all divers should master while maintaining good buoyancy and trim. Boats and current are two common factors associated with DSMBs. The use of an DSMB adds another layer of safety, you create visual reference for boats and you can use the DSMB line to complete your safety or decompression stop. Take the course and learn about all the beneficial uses of a Delayed SMB.
PADI Underwater Navigator
Be the diver everyone wants to follow and make your sense of direction legendary with the PADI Underwater Navigator Specialty course!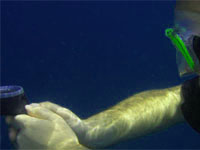 Finding your way is not a matter of luck! When everyone's buzzing about a reef or checking out a shipwreck, they're having a great time – until it's time to go. Then they turn to you, because as a PADI Underwater Navigator, you know the way back to the boat.
PADI Diver Propulsion Vehicle
PADI Diver Propulsion Vehicle Specialty Course is exciting. Live life in the fastlane and enjoy the ride.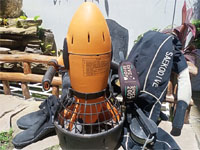 The PADI DPV Speciality course is designed to introduce divers to the skills and excitement of using dive propulsion vehicles (DPVs). The course familiarises student divers with the knowledge, planning, organisation, procedures, techniques, potential problems and hazards associated with using DPVs.
PADI Dive Against Debris
Do you want to make a difference on every dive but are not sure where to begin?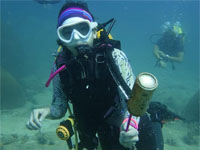 Gain the knowledge and skills to activate your inner citizen scientist by taking the Dive Against Debris® Specialty. You'll learn to complete Dive Against Debris surveys under the guidance of one of our instructors and help keep you your local dive sites healthier by removing trash.
PADI Peak Performance Buoyancy Course
Scuba divers like to be neutrally buoyant so they neither sink nor float.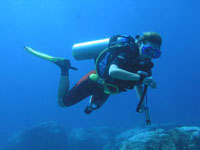 Divers who've mastered the highest performance levels in buoyancy stand apart. They glide effortlessly, use less air and ascend, descend or hover, almost as if by thought.
PADI Search and Recovery Course
Have you ever dropped something in the water? Are you looking for lost "treasure"?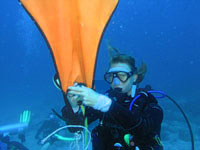 The PADI Search and Recovery Diver Specialty course will teach you effective ways to find objects underwater and bring them to the surface. Small, large or just awkward, there is a way to bring them up.
PADI Underwater Naturalist
Look closer to see more on your next dive!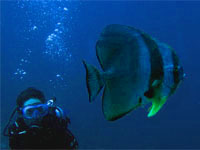 Look for symbioses, predator/prey and other relationships between aquatic plant and animal life. Learn not just what fish and animals are, but how they interact with each other and the environment.
PADI Emergency Oxygen Provider
What to do in case of decompression sickness of a lung overexpansion injury?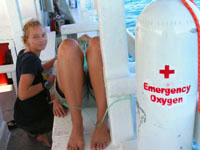 The emergency oxygen provider is a "must do" course for anyone who is taking care about other persons on the dive boat. The course attempts to teach scuba divers how to recognize diving illnesses that need to be treated by emergency oxygen, and be able to set up and assemble the oxygen kit and properly administer oxygen to the victim.
CoralWatch Coral Health Chart Distinctive Specialty
Help assessing our local coral health as well as coral bleaching by using the CoralWatch Coral Health Chart to monitor our local reefs, or any that you visit!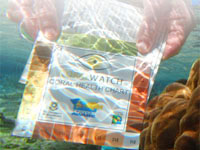 The Coral Health Chart is basically a series of sample colours, with variation in brightness representing different stages of bleaching/recovery, based on controlled experiments. It is the aim to both provide a scientific tool and increase awareness about global warming by demonstrating one of its devastating effects.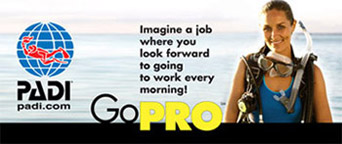 Instructor Development Course (IDC)
If you like people, have a passion for scuba diving and want an extraordinary life – become a PADI Instructor!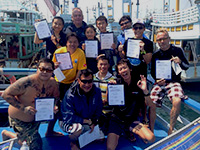 The Instructor Development Course (IDC) is made up of two parts – the Assistant Instructor (AI) course and the Open Water Scuba Instructor (OWSI) program. Most dive professionals complete the entire IDC and go on to attend an Instructor Examination (IE), which is the final step to earn a PADI Instructor certification.
Staff Instructor Course
Just as scuba divers look up to divemasters, instructor candidates really respect IDC Staff Instructors. As the name implies, IDC Staff Instructors assist with instructor training and share their wisdom and experience with new PADI leaders.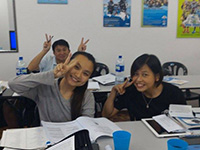 Taking the IDC Staff Instructor course provides you with in-depth knowledge of the instructor development process and prepares you to shape the next generation of PADI Professionals. It's also a great career move.
PADI Divemaster
Looking for the first step in working with scuba as a career?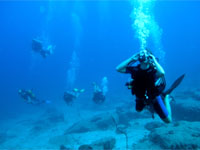 Your adventure into the professional levels of recreational scuba diving begins with the PADI Divemaster program. Working closely with a PADI Instructor, in this program you expand your dive knowledge and hone your skills to the professional level. PADI Divemaster training develops your leadership abilities, qualifying you to supervise dive activities and assist instructors with student divers.
PADI Assistant Instructor
As a PADI Assistant Instructor, you not only gain additional experience as a PADI Professional scuba diver, but you also start learning the PADI System of diver education.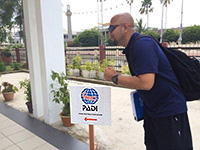 You can act as an instructional scuba assistant and assume limited teaching responsibilities. It's a great way to gain experience in order to become a Scuba Instructor!
PADI Instructor Specialities & MSDT
The PADI Master Scuba Diver Trainer rating sets you apart as a dive instructor who takes continuing education seriously and is committed to teaching a variety of courses.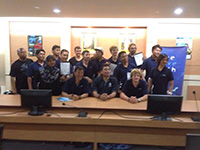 Being an MSDT signifies that you've got the experience and certifications to offer all the training a diver needs to become a Master Scuba Diver – the ultimate recreational diver rating.
Emergency First Response Instructor
As an Emergency First Response Instructor, you teach skills based on internationally recognized emergency care guidelines, and you can offer courses to anyone.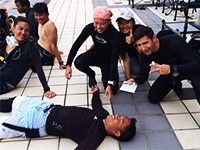 The great thing about EFR courses is they make learning easy by providing a comfortable environment to practice emergency care skills. Your students finish the course feeling confident with their new skills and ready to help someone in need.
PADI Equipment Specialist Course
Don't miss a dive due to a scuba gear issue!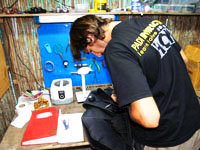 Whether it's a blown o-ring, regulator problem, wetsuit tear or a broken fin strap, you can learn how to manage basic scuba equipment adjustments. Widen your knowledge about the different equipment systems and configurations.
DSAT Gas Blender Course
The DSAT Gas Blender course will train you as a qualified gas blender.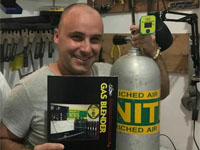 More and more divers are seeing the benefits of using mixed gasses and there is a growing demand for certified blenders. This course will train you to fulfil that very important requirement, every day Enriched Air diving is becoming more mainstream, the number of certified Enriched Air divers is increasing, therefore you can only increase your value as a Diving professional by being qualified as a Gas Blender.
DSAT Tec Basics
The PADI Tec Basics course is a bridge from recreational to technical diving.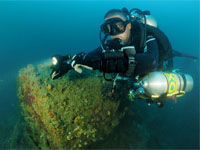 It exposes recreational divers to tec diving and entry level tec diving skills and equips them with the information they need to decide whether or not to accept the additional risk and commitment that PADI Tec courses demand. The PADI Tec Basics course runs within recreational limits, using segments from PADI Tec 40 Dives 1 and 2.
DSAT Tec 40
The PADI Tec 40 course is where you transition from recreational scuba diving to technical diving.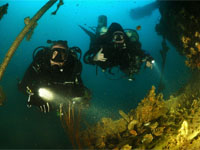 It's a great place to start because it's the first subdivision of the full PADI Tec Diver course and bridges the gap between no stop diving and full technical deep decompression diving.
DSAT Tec 45
The PADI Tec 45 course is the second part of the full PADI Tec Deep Diver program.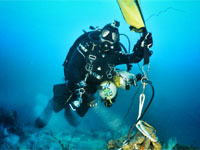 You'll extend your depth limit to 45 meters/145 feet and learn to plan and execute repetitive decompression dives using a single stage/decompression cylinder. It puts you in a complete tec diving rig, which can be either backmount or sidemount.
DSAT Tec 50
The third part of the full PADI Tec Deep Diver program is Tec 50.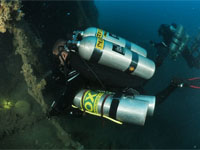 As a Tec 50 diver, you show that you've developed competency as a tec diver and have the skills to dive to a maximum of 50 meters/165 feet. You know how to make extended, accelerated decompression stops using up to two gases.
DSAT Tec Sidemount
If you've looked into technical diving, you realize that tec divers always wear more than one tank.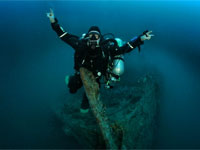 Sidemount is an increasingly popular way to configure multiple cylinders for technical diving. You can enter the world of tec diving with the Tec Sidemount Diver course and apply what you learn to other TecRec courses.