Cambodia
Cambodia is a developing country that has just emerged from a 30-year period of upheaval and civil unrest and is putting increasing emphasis on tourism to improve its economy.
During the reign of the Khmer Rouge (1975-79), around 2 million of Cambodia's then 7 million population were killed.. After the Vietnamese invaded and overthrew the Khmer Rouge, the country was caught in a series of guerilla wars until a peace accord was negotiated in 1991. In 1998 they held the first real elections which passed off relatively smoothly and the country has been largely stable since then.
Tourism in Cambodia is a rapidly growing industry with Ankor Wat being the main attraction, if people remain in Cambodia after visiting the temples they tend to visit Phnom Penh the capital city and the beaches of Sihanoukville.
You can visit any time of year although the best months temperature-wise are from December to April (dry and not too hot, not too cold ). The official language of Cambodia is Khmer but English is widely spoken and French often spoken by older Khmers. Visas cost US$30 for a tourist visa or US$35 for a business visa for one month (you will need 1 pass photo) and are available at Phnom Penh's Pochentong airport and the embassies in Thailand and Vietnam, among others. You can get a visa extension in Phnom Penh or Sihanoukville. The Laos/Cambodia border is an off/on affair best attempted if you have plenty of time.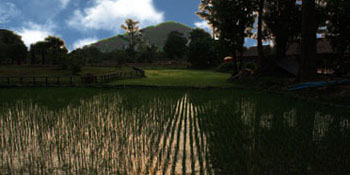 Cambodia's official currency is the riel, however US$ are the general currency of choice for everyone. As far as getting around goes, there are buses to and from the main cities and towns. Don't expect too much from the roads, although Phnom Penh to Sihanoukville and Siam Reap is good. Some towns are also served by a railway – very slow, but cheap. You can also fly between Phnom Penh and Siem Reap or take a river ferry. Once in town, motodops (motorbike taxis) are the most common although not the safest form of transport or you can usually arrange a private car for daily hire. Siem Reap, Phnom Penh and Sihanoukville all have a mixed range of accommodation, so you can choose depending on your budget – anything from US$2/3 to US$2000 per night. Eating out – there is plenty to choose from, including western and Khmer.