DSAT Tec Sidemount
You'll learn about the advantages of diving with a sidemount configuration and how to set up a tec sidemount harness. You'll get hands-on training during one confined water session and four open water dives where you'll start with two tanks and add at least two more, maybe even getting to six sidemounted cylinders.
Your instructor may offer to integrate this course with the Tec 40, Tec 45 or Tec 50 courses.
Prerequisites: If you're a PADI Advanced Open Water Diver, PADI Sidemount Diver and at least 18 years old and have a minimum of 30 logged dives, you qualify to enroll in a Tec Sidemount Diver course. It's recommended that you also have a PADI Enriched Air Diver certification.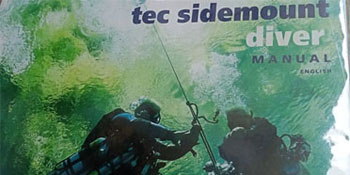 We charge $495 for the DSAT Tec Sidemount course.
Included in this price is the PADI/DSAT certification card, course materials, technical equipment rental as well as all gases needed for the course.