Meet our staff
Dennis, Managing Director & PADI Instructor.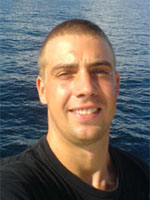 "I have already been diving half of my life, I became certified as a 13 year old. It became my passion and ever since I have gained experience in various spots and conditions."
Dennis has done more than 1500 dives all around the world.
Languages: German and English.
Diving experience: Certified in 1997 and pro since 2008.
Pete, PADI Instructor & Base Leader.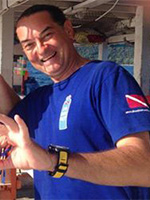 "I'm a fair dinkum Australian from Cairns on the magnificent Great Barrier Reef. I am unable to narrow down the reason I have such a passion for diving but I think it's a combination of the creature you can encounter, the feeling of flying weightless through the water along with outdoor lifestyle that diving offers. I've been diving since the 90's and still can't wait to get in the water so the saying "Find a Job you enjoy and you will never work a day in your life" is totally true in my case."
Pete did his first dive certification in 1992 on the Great Barrier Reef island called Fitzroy island. He worked as a mechanical engineer for many years but eventually the draw of the sea led him to become a dive instructor and travel the world ending up in tropical waters of Cambodia.
Languages: English.
Diving experience: 20 years.
Arnold, Course Director.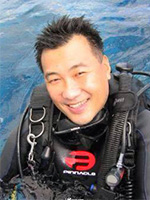 "Born in Malaysia and started diving in New Zealand. I have been a PADI Instructor for 16 years and a PADI Course Director for 8 years. I still enjoy teaching DSD's as well as IDC's. I now travel around Asia in Malaysia, Thailand, Brunei and even as far as Rarotonga in the Cook Islands conducting IDC's.With the passion of teaching new Instructors in the real world application of teaching SCUBA I feel this is the most important aspect of diver Education."
Arnold has been awarded Platinum Course Director and has trained and certified to date over 680 PADI Instructors and Instructor Specialists. He has also successfully helped Seamonkey Dive Center to become the first PADI 5 Star Career Delevopment Centre in Malaysia and has recently been awarded the Outstanding Contribution to Instructor Development by PADI Asia Pacific.
Languages: English, Bahasa Malaysia/Indonesia, Cantonese & Hokkien (2 dialects of Chinese).
Diving experience as a professional: 16 years.
Markus, PADI Instructor.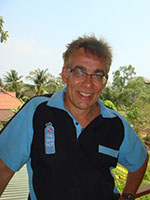 "My inspiration to start diving came up with my activities in speleology. After a try dive in Germany 1996 I traveled South Africa in 1997 and did my OWD. The AOWD followed the next year when I went back to South Africa again. The same year I also joint a diving group in Germany. I like to travel and see different places, so in the next years all my traveling was related to caving and diving. So I went for diving in Germany, Norway, Italia, Croatia, Malta, Turkey, Egypt, Malaysia, Indonesia, Thailand, Philippines and Cambodia."
After 16 years of fun diving Markus decided to become a professional dive teacher and did his PADI dive master and instructor 2014 in Cambodia.
Languages: English and German.
Diving experience: since 1996. Caving experience: since 1992.
Tom, PADI Instructor.
Hi my name is Tom. I am a PADI Master Scuba Diver trainer. I have lived and dived in Cambodia for the last six years and I have local knowledge of all the best dive sites even in challenging conditions. This year's season 2018, I have joined The Dive Shop and I looking forward to experiencing more awesome Cambodian diving.
Languages: English.
Diving experience: In Cambodia 6 years.
Giorgio, PADI Instructor.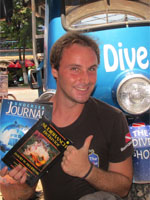 Giorgio has started his career as a Divemaster-Trainee with the DSC long ago, nearly 9 years, since then his life changed.
"I'm a dive center manager in Maldives now and a diving teacher: this is my greatest passion and my life. I've been moving from country to country to do what I do best, but I always come back to the DSC; my second home, my second family."
Languages: English and Italian.
Diving experience: Professional since 2009.
Yves, PADI Instructor & owner of Sleeping Trees.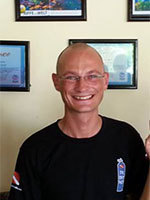 "I was born in France in grew up in the mountains and did not know that I should become a diver finally, because I was attracted more by the thrill of the mountains."
After 10 years of traveling Yves tried diving in Koh Tao for the first time and immediately fell in love. Yves dipped further in Southeast Asia and what was a hobby at first, was a reason to travel. While he appeared with the turtles in Malaysia and in the wrecks in Coron, he understood that the sea is a very special place! So he went back to Koh Tao to go through the Divemaster training and shortly after he went to Bali to take the course with IDC Bali Breizh Divers and Course Director Guy Faisnel. Meanwhile, Yves lives in Cambodia to dive our pristine dive sites and to teach our students!
Languages: French and English.
Diving experience: 2 years.
Charles, PADI (part time) Instructor.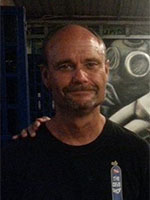 "I love diving because of the abundance of life under water, every dive brings something new."
I am originally from Texas in the U.S.A. I learned to dive on a holiday in Hawaii 20 years ago and now have well over a 1000 dives. I worked as a Divemaster part time in Texas before becoming an Instructor 5 years ago in Phuket Thailand.
Languages: English.
Diving experience: 20 years.
Sothea, Head Accountant.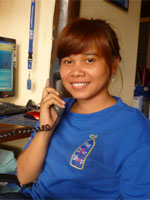 Sothea has been with the team since the Dive Shop opened in 2008. She works with her heart and soul and always has time for our guests and the team alike. Sothea was married last year, which all the Dive Shop staff helped celebrate, and has just given birth to a beautiful baby girl named Hannah. Congratulations and well done Sothea!
Languages: English and Khmer.
Zia, Office Manager.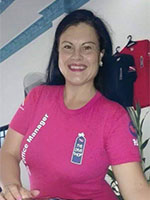 Zia is our Office Manager and joined us in 2016. Shortly after Kheng and Zia got married in Kampot. Zia was born in South Africa and worked as an Avionics Engineer as well as served some time in Afghanistan.
Zia's brother, one of our previous Diving Instructors introduced Zia to The Dive Shop, and Zia has been passionate about the staff and daily operations of the Office, our Island and off course, Scuba Diving and has since completed a few courses, and will soon start her Dive Master Training as well.
Languages: Afrikaans, English, Khmer, Pashto, Dutch and some Sinhalese
Freya, Accountant.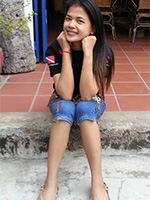 Freya was born in the Kampot Province but is living in Sihanoukville since 2010. She has already completed the academics for the Open Water Course and is looking forward to dive in the ocean soon. At the moment she is studying Chinese, her third language! During her time off work Freya is studying to complete her Masters in management.
Languages: English and Khmer.
Nary, Accountant.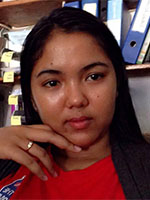 Nary has joined us again in 2016, and we are very happy to have her back on the team. Nary is based in the main office and helps with administration, staff communication and is an excellent cook as well. Very resourceful when it comes to our daily purchases that keeps our operations running effectively.
Languages: English and Khmer.
Dern, Head Captain.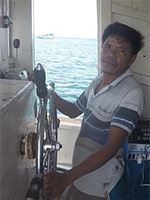 Dern is a very experienced captain who is steering boats in Cambodian waters for more than 20 years already. He knows all the Cambodian islands, from the Thai- to the Vietnamese border.
Languages: English and Khmer.
Chanthea, Captain.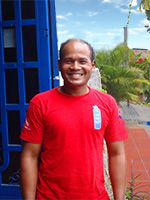 Chanthea is coming from the Kampot Province as well and he is the nephew of Captain Mao. When his uncle decided to move to Sihanoukville to work for The Dive Shop, he just followed and asked for an interview.
Languages: Khmer.
Seth, Majesty Multitalent.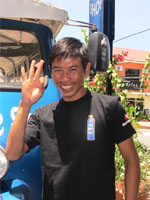 Seth has been our driver in Sihanoukville for quite a while but has shown to be very reliable and extremely skilled working with any machine. Since we have moved our dive center to the Sunset beach on Koh Rong Samleum, he went to the island permanently together with his wife Pov who is a genius chef serving local as well as japanese disher in our restaurant at the Robinson Bungalows.
Languages: English and Khmer.
Kheng, Dive Shop Staff.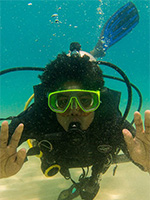 Kheng is with us since 2014 when his relative, our general manager Sothea, introduced him into the Dive Shop family. Kheng is married to Zia, our Office Manager. Kheng is helping his brother Sina with daily tanks operations.
Languages: Khmer and English.
Sina, Dive Shop Staff.
Sina is the young brother of Kheng and with our team since 2014 as well. Sina fills is responsible for filling our tanks and helps with overall transport of guests. Sina is married to Smey, our cook.
Languages: Khmer and English.
Smey, Island Staff.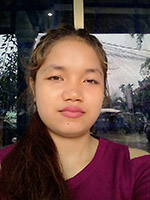 Smey is our cook, and responsible for our guests lunch on the boat as well as our local's staff meals. Smey has been with us from late 2014, and is the wife of Sina.
Languages: Khmer.
Tha, Housekeeper.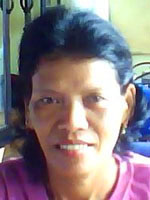 Tha has been working for the Dive Shop for a long time already. Her main duty is to keep our office in Sihanoukville clean and tidy. She sees our team kind of like a second family as she does not have children and her husband is living and working in Thailand.
Languages: Khmer.