Meet our Team
Dennis, Managing Director & PADI Instructor.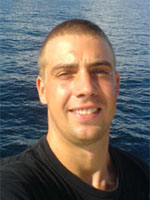 "I have already been diving half of my life, I got certified as a 13 year old. Diving became my passion and ever since I have gained experience in various spots and conditions. My personal favorite is to dive shipwrecks and to go on expeditions together with friends to search for new wrecks."
Dennis is a technical diving Instructor and has done more than 2500 dives around the world.
Languages: German and English.
Diving experience: Certified in 1997 and pro since 2008.
Ray, Operations Manager & PADI Instructor.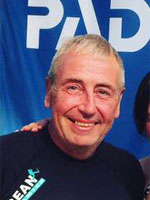 "I have been diving for over 30 years in all parts of the world and in various environments. Having been a military instructor for 22 years I decided to become a PADI professional just over 4 years ago and took my PADI Instructor Devolpement Exams. I have now instructed at all PADI levels from Open Water Courses to Dive Master Courses and have certified nearly 150 divers with PADI. I am also a Master SCUBA Diver Trainer allowing me to instruct on many different PADI specialist courses."
Ray has worked for the Dive Shop Cambodia since 2019 and lives and works on the beautiful island of Koh Rong Sanloem.
Languages: English.
Diving experience: 30 years.
Arnold, Course Director.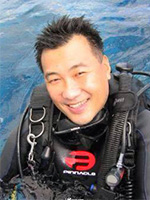 "Born in Malaysia and started diving in New Zealand. I have been a PADI Instructor for 16 years and a PADI Course Director for 8 years. I still enjoy teaching DSD's as well as IDC's. I now travel around Asia in Malaysia, Thailand, Brunei and even as far as Rarotonga in the Cook Islands conducting IDC's.With the passion of teaching new Instructors in the real world application of teaching SCUBA I feel this is the most important aspect of diver Education."
Arnold has been awarded Platinum Course Director and has trained and certified to date over 680 PADI Instructors and Instructor Specialists. He has also successfully helped Seamonkey Dive Center to become the first PADI 5 Star Career Delevopment Centre in Malaysia and has recently been awarded the Outstanding Contribution to Instructor Development by PADI Asia Pacific.
Languages: English, Bahasa Malaysia/Indonesia, Cantonese & Hokkien (2 dialects of Chinese).
Diving experience as a professional: 16 years.
Pete, PADI Instructor.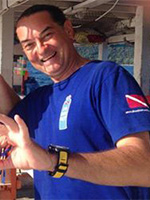 "I'm a fair dinkum Australian from Cairns on the magnificent Great Barrier Reef. I am unable to narrow down the reason I have such a passion for diving but I think it's a combination of the creature you can encounter, the feeling of flying weightless through the water along with outdoor lifestyle that diving offers. I've been diving since the 90's and still can't wait to get in the water so the saying "Find a Job you enjoy and you will never work a day in your life" is totally true in my case."
Pete did his first dive certification in 1992 on the Great Barrier Reef island called Fitzroy island. He worked as a mechanical engineer for many years but eventually the draw of the sea led him to become a dive instructor and travel the world ending up in tropical waters of Cambodia.
Languages: English.
Diving experience: 20 years.
Markus, PADI Instructor.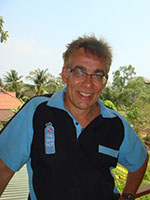 "My inspiration to start diving came up with my activities in speleology. After a try dive in Germany 1996 I traveled South Africa in 1997 and did my OWD. The AOWD followed the next year when I went back to South Africa again. The same year I also joint a diving group in Germany. I like to travel and see different places, so in the next years all my traveling was related to caving and diving. So I went for diving in Germany, Norway, Italia, Croatia, Malta, Turkey, Egypt, Malaysia, Indonesia, Thailand, Philippines and Cambodia."
After 16 years of fun diving Markus decided to become a professional dive teacher and did his PADI dive master and instructor 2014 in Cambodia.
Languages: English and German.
Diving experience: since 1996. Caving experience: since 1992.
Freya, Office Manager.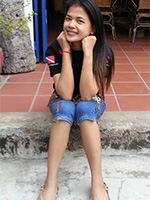 Freya is most on the time working in our head office in Sihanoukville but you may also meet her on the dive boat or one of our island locations. She was born in the Kampot Province but is living in Sihanoukville since 2010. She has completed her Open Water Course in Indonesia and is looking forward to dive take on the Advanced course here in Cambodia soon. During her time off work Freya is studying to learn German.
Languages: English and Khmer.
Lapai, Accountant.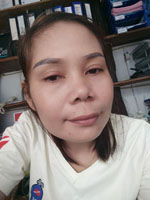 Lapai in born in Sihanoukville and you will meet her most likely in our office in Sihanoukville. She has been with The Dive Shop team since 2018 doing a great job ever since. She loves it to take her husband and two children to one of the beaches in town but sadly she did not go scuba diving with us yet. Rumors are that she might be shy of water or afraid of too much sunshine.
Languages: English and Khmer.
Khoun, Head Captain.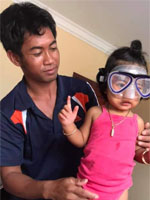 Before starting to work for The Dive Shop, Khoun has been working as a captain of a fishing boat around Koh Sdach Island close to the border of Thainland. He is very safety oriented and has been with our team for several years already. Khoun has recently completed his PADI Open Water course with flying colors and is looking to take his next diving to the next level soon by completing his AOW course during his free time.
Languages: Khmer.
Ah Roth, On Island Facilitator and Diver.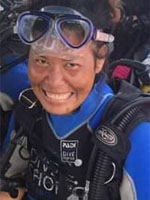 I have been working for the Dive Shop Cambodia for just over 2 years and live and work on Koh Rong Sanloem. My tasks are varied but mainly include cooking the lunches for the dive trips and keeping our beaches and facilities clean. The Dive Shop Cambodia has put me through my OW and AOW courses and I now have more than 50 logged dives. I love being underwater and seeing the beauty of our reefs. As a diver and a Khmer speaker I am also able to help translate any technical issues to Khmer students the instructors are teaching.
Languages: English and Khmer.
Pov, Boat Boy.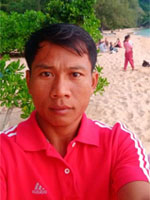 Pov has been born in Kampong Chhnang province where he grew up and at a young age he started to work as a fisherman in the Mekong River and the Tonle Sap lake together with his parents. Pov is a natural not only on the boat but also diving in it, he has recently completed the PADI Discover Scuba Diving exprience with our instructors. He is now studying hard to complete his Open Water certification.
Languages: Khmer.
Srey Lin, Dive Shop Mama.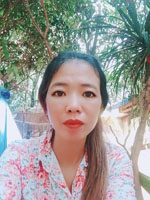 Srey Lin was born in the beautiful Kampot province and when she was a child, she got hit by lightning and bitten by a cobra at the same time which resulted in her developing superhero powers. After finishing her studies, she met Pov and felt in love with him. Shortly afterwards they got married and have two children since. In her free time she loves the hammock and to read books.
Languages: Khmer.