PADI Dive Propulsion Vehicle (DPV)
Dive propulsion vehicles or DPV as we call them in the diving world, are underwater scooters that make diving easy.
DPV are one of the coolest ways to get around underneath the water. No more fighting with the current or having to swim let the DPV lead the way. As you are flying through the water effortlessly. You'll wonder why you waited so long to take this course.
Prerequisites: To take the PADI DSMB Specialty course, you must be a PADI certified diver (or qualifying certification from another training organization).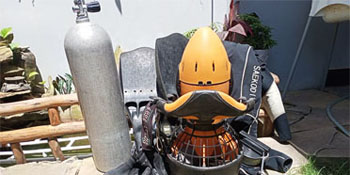 We charge $245 for the PADI DSMB Specialty course.
Included in this price is the PADI 5 star certification card, rental of the DPV and all the equipment you need for the course, lunch as well as the transfer to Koh Rong Samleum island and an open return ticket to get back to Sihanoukville.