PADI DSMB Specialist
During the theory you develop practical knowledge about common types of DSMB´s and SMB´s along with spools and reels used to control them.
In the dry runs you practice stowing and preparing your DSMB and spool and how to deploying the DSMB from a stationary position. In the 2 open water dives you practice the techniques of deploying DSMB´s while maintaining neutral buoyancy, horizontal trim and team awareness.
Prerequisites: To take the PADI DSMB Specialty course, you must be a PADI certified diver (or qualifying certification from another training organization).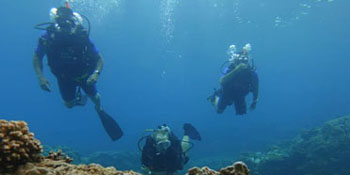 We charge $175 for the PADI DSMB Specialty course.
Included in this price is the PADI 5 star certification card, rental of all the equipment you need for the course, lunch as well as the transfer to Koh Rong Samleum island and an open return ticket to get back to Sihanoukville.