PADI Discover Scuba Diving
There is nothing like breathing underwater for the very first time. It takes a little getting used to –after all, human beings weren't designed to do that – but after a few minutes of awestruck wonder, most participants realize how easy scuba diving really is.
The biggest challenge instructors have with the Discover Scuba Diving program is not coaxing participants into the water, but coaxing them out when the program is over. The fun part? It's all fun!
Your Discover Scuba Diving program includes an actual scuba dive in open water, which may count toward PADI Scuba Diver or Open Water Diver certification, putting you a step ahead of the game when you decide to go for it.
Prerequisites: To take Discover Scuba diving, you must be at least 10 years old.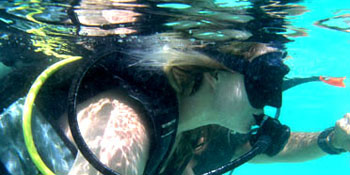 We charge $95 for the PADI Discover Scuba Diving program.
This includes a small breakfast on the way out, lunch in between the two dives, rental of all the divegear you need for the course as well as the transfer to Koh Rong Samleum island and an open return ticket to get back to Sihanoukville.