PADI Emergency Oxygen Provider
The Emergency Oxygen Provider Specialty course teaches divers and non-divers that emergency oxygen is an extremely vital treatment for many injuries and the primary first aid given to individuals suffering from a near drowning or decompression illness (lung overexpansion injuries and decompression sickness). Course participants learn how to provide oxygen in an emergency.
There is no written examination to successfully complete the PADI Oxygen Provider course, and there are no training dives to be completed to certify. Before class, you'll be asked to review a step-by-step explanation of when and how to provide emergency oxygen. You'll also learn about safety considerations, and how to assemble and disassemble emergency oxygen equipment.
This course is a natural complement to the PADI Emergency First Response certification, which covers CPR and first aid, pairs perfectly with the Emergency Oxygen Provider course.
Prerequisites: It is not necessary to be a certified scuba diver to enroll or take this PADI course which makes this equally useful to anyone involved in water sports or water based activities such as boating, surfing etc. where the need to administer oxygen may arise.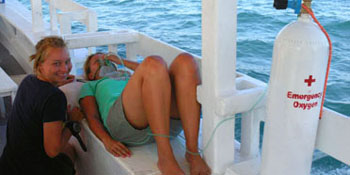 We charge $145 for the PADI Emergency Oxygen Provider course.
Included in this price is the PADI 5 star gold certification card and the PADI Emergency Oxygen Provider manual.
Click here to book the PADI Emergency Oxygen Provider course!