PADI Open Water Diver
The decision to become PADI Open Water Diver might change your life!
On the first day of the course you will watch the Open Water Diver DVD in our classroom in Sihanoukville or already out on the island and finish the academics together with your instructor.
The second day will get you out to Koh Rong Samleum island and jump into the water to start your first confined water session in the calm shallow water on the wind protected side of the island. After you have learned all the skills necessary for diving, we will take you on your first open water dive.
During the third and forth day you will be diving on some of Cambodias most beautiful coral reefs and have an experience like never before. You will fall in love with the seahorses, batfish, crabs, nudibranches and many beautiful reef fish. You will get certified as PADI Open Water Diver as soon as we are back in our office in Sihanoukville.
Prerequisites: To take the PADI Open Water Diver course, you must be at least 15 years old (or 10 years old for Junior Scuba Diver certification).
Included in this price is the PADI Open Water Diver manual, PADI 5 star gold certification card, rental of all the equipment you need for the course, one night accomodation in our dormroom at Koh Rong Samleum island, breakfast and lunch on both diving days as well as the transfer to Koh Rong Samleum island and an open return ticket to get back to Sihanoukville.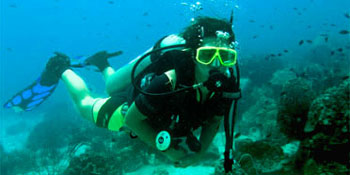 We charge $420 for the PADI Open Water Diver course.
Click here to book the PADI Open Water Diver course!
You can also do the academics for this course online with PADI elearning which saves you one day in the classroom.

We charge $335 for the practical training after completing the elearning. On top of this PADI ask you for a fee to access the elearning section.