PADI Search and Recovery Course
Find lost items and lift them to the surface. It's fun to use the lift bag. Not only are these skills fun, but very practical and ultimately useful because eventually, you will probably lose something in the water. As a Search and Recovery Diver, you'll know how to search for and recover it.
Learn how to plan, organise and conduct search patterns and develop recovery techniques. Search and recovery builds and improves on your navigation, organisation and teamwork skills. You will learn how to use lines, reels, lift bags and search patterns to locate and recover missing objects, as well as the proper safety considerations involved.
Prerequisites: To take the PADI Search and Recovery course, you must be a PADI Advanced Open Water Diver (or qualifying certification from another training organization) and 12 years of age.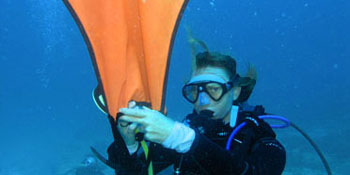 We charge $229 for the PADI Search and Recovery Specialty course.
Included in this price is the PADI 5 star gold certification card, rental of all the equipment you need for the course, one night accomodation in our dormroom at Koh Rong Samleun island, breakfast and lunch as well as the transfer to Koh Rong Samleum island and an open return ticket to get back to Sihanoukville.
Click here to book the PADI Search and Recovery Specialty course!