PADI Self-Reliant Diver Distictive Specialty Course
Every day tens of thousands of divers "do it alone" around the world, many of them without the training or qualifications to do so.
Divers who buddy-dive regularly, but find that they have drifted apart in poor visibility. How about divers who perform a perfect descent, only to find that they have to wait at depth for the rest of their buddy team to catch up because of equalisation problems. In theory, these scenarios shouldn't happen. Divers should stay together and be available to assist their buddies if a problem occurs. In reality on virtually every dive, at some point, divers unwittingly find themselves on their own, if only for a short time.
Underwater photographers actively seek to dive alone. They see it as possibly the only way to return with striking images.
No, this course does not advocate nor promote in any way solo scuba diving. Diving with a buddy or diveteam remains PADI's highly recommanded and safest manner of scuba diving whenever and wherever possible.
Prerequisites: To take the PADI Self-Reliant Diver course, you must be a PADI Advanced Open Water Diver (or qualifying certification from another training organization) and 18 years of age or older. Also you will need to have a minimum of 100 logged dives and successfully complete a dive skills assessment by a PADI Self-Reliant Diver Instructor.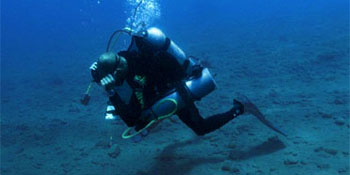 We charge $320 for the PADI Self-Reliant Diver Distinctive Specialty course.
Included in this price is the PADI 5 star gold certification card, rental of all the equipment you need for the course, one night accomodation in our dormroom at Koh Rong Samleum island, breakfast and lunch as well as the transfer to Koh Rong Sanleum island and an open return ticket to get back to Sihanoukville.
Click here to book the PADI Self-Reliant Diver Specialty course!