PADI Underwater Navigator
As a PADI Underwater Navigator, you save time and air because you get where you're going via the most efficient route, and you avoid long surface swims because you find your way to and from the boat or entry/exit point entirely underwater.
During your PADI Underwater Navigator programme you'll go on 3 open water scuba dives, familiarising yourself with the skills, knowledge, planning, organisation, procedures, techniques, problems, hazards and enjoyment of underwater navigation. You'll learn methods of estimating distance underwater, how to use underwater patterns, dive site relocation techniques, and compass navigation techniques.
Prerequisites: To take the PADI Underwater Navigator Specialty course, you must be a PADI certified diver (or qualifying certification from another training organization).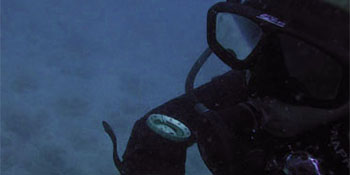 We charge $175 for the PADI Underwater Navigator Specialty course.
Included in this price is the PADI 5 star gold certification card, rental of all the equipment you need for the course, one night accomodation in our dormroom at Koh Rong Samleum island, breakfast and lunch as well as the transfer to Koh Rong Samleum island and an open return ticket to get back to Sihanoukville.
Click here to book the PADI Underwater Navigator Specialty course!