Sihanoukville
The coastal city Sihanoukville has a different look and feel than most Cambodian towns. Constructed as a port city in the late 1950s, the town is much newer, more urban and cosmopolitan than most Cambodian provincial cities.
Nowadays, the city has undergone a transformation from a traditional authentic beach resort to a modern, bright and vibrant casino and coastal city. Boasting many high-class hotels and gambling centres it is a city that doesn't sleep. It does, however, still retain its white sand beaches, warm ocean waters and traditional Khmer shops and markets. Shopping malls are now also in abundance with cinemas, eateries and designer wear shops inside them.
Still to be found are the backpacker areas of Occheuteal and Otres where dorms and budget accommodation can be found within easy access to the piers taking customers to the stunning array of islands just off the coast. Occheuteal and Otres still have the more authentic type of bars and eateries and are away from the bright flashing lights of the casino city.
Along with the transformation to a modern bustling 24 hour city the infrastructure has also been greatly improved. Gone are the bumpy, muddy, pot hole strewn roads to be replaced by modern, well lit highways. The coastal route from the city centre to Otres and beyond to Ream National Park is breath taking, seeing the sun glisten off the ocean as you take the ride.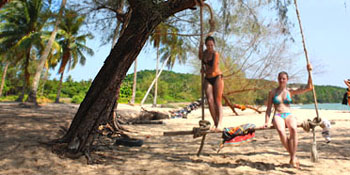 With its international airport now only 20 minutes away it is recommended you request your taxi driver to go into town via the coastal road so you can enjoy the views as soon as you arrive.
Sihanoukville and its surrounding areas really is now a cosmopolitan city but areas of Khmer and budget accommodation still exist. It is where backpacker meets Vegas and is a great stop over place for onward travel to the islands.