Social Projects
The Dive Shop Cambodia strives to improve the life of the local communities in the areas we work by running programs such as healthcare initiatives and english classes.
Whenever possible we have had doctors, dentists and nurses (local and foreign) staying on the island to provide easily accessible medical assistance. We have provided financial support for more serious cases, brought people to the hospital for x-rays, surgery and operations.
When we were based on Koh Rong we improved the quality of life for the islanders, by building a new bridge making it easier for the children to reach the school. We also built a public incinerator big enough to burn the garbage of the whole village in an environmentally fiendly way. Volunteers were frequently coming to teach english, to provide support for further education or future career opportunities on their island or help with healthcare improve the children's health. We have moved from Koh Rong to Koh Rong Samleom, her more relaxed sister island, due to the more lively tourist/backpacker scene that has recently developed there. Finally we believe our goals with our Koh Rong social projects have been a great success and now we have been looking into the requirments of Koh Rong Samleom and ways to give back to our new area.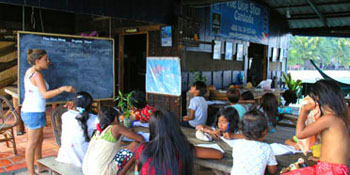 The Dive Shop Cambodia also employed several english teachers. Gabriela, affectionately named "teach" by her students, as well as many others to run two classes almost every day. Her friendly personality as well as her extraordinary teaching skills have made her an important part of the local community!
Volunteers are welcome to join us in increasing the standard of life of on our new island of Koh Rong Samleom. If you are interested in helping, please dont hesitate to give us an email.